Is FanDuel legal in Canada? Is FanDuel legit? These are the questions that we at BettingOnlineCanada.com are going to answer in this in-depth guide to FanDuel Canada. Stick around to learn all you need to know about FanDuel sportsbook and casino in Canada.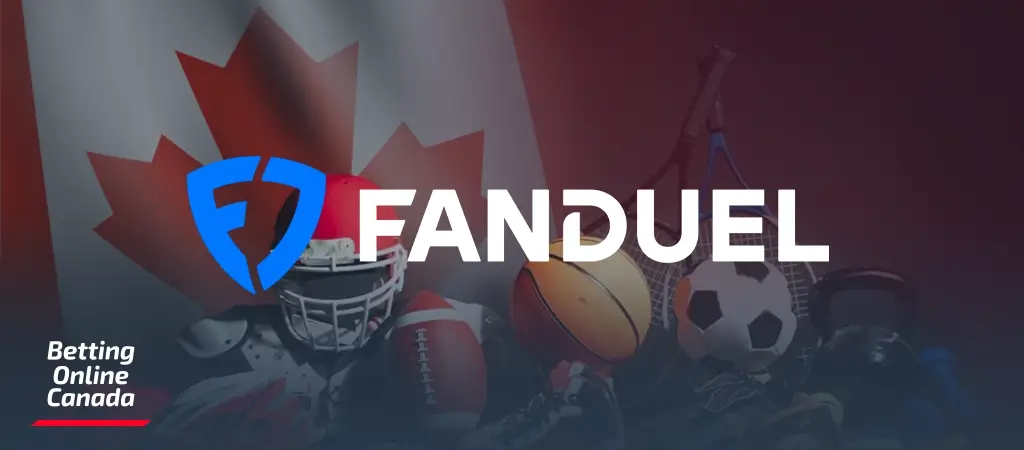 Where is FanDuel Sportsbook Legal to Operate? 
Ever since the Canadian Parliament legalised single-event sports betting in Canada, many people think that sports betting is legal everywhere in Canada. This is technically true. You normally cannot get in trouble for placing bets. However, not every sportsbook is allowed to operate in every province. FanDuel is a good example of this.
FanDuel is a legal sports betting site in Canada. However, it is only legal to play in Ontario because Ontario is the only province to open its sports betting market to private sector sportsbooks, like FanDuel.
FanDuel Canada has been available in Ontario since Day 1. It was one of 13 betting sites given a licence to operate ahead of Ontario opening its market in April 2022. It's also one of the most popular brands across North America when it comes to sports betting.
Where is the Casino Version of FanDuel Canada Available?
In the US, FanDuel Casino is not available in most states where FanDuel is allowed to operate its sportsbook. This is not a problem in Canada. FanDuel Casino is available in Ontario alongside its sportsbook.
Ontario is the only Canadian province where casino fans can play online casino games at FanDuel. This may change soon in the future, but it is a complicated issue given the role of provincial lotteries and tribal casino rights.
How FanDuel Became Legal in Canada
FanDuel entered the Canadian gaming market thanks to changes in Canadian laws surrounding sports betting. New Ontario laws allowing for private-sector online casinos and sportsbooks also played a major role.
FanDuel Canada was one of the first operators to get a gaming license under Ontario's new iGaming regime. Ever since then, FanDuel has established itself in Canada as a leading online casino and sportsbook.
In the coming years, FanDuel Canada hopes to expand outside of Ontario and into other provinces. Quebec is the most likely target for FanDuel in terms of another province to operate in.
Where FanDuel is Legal in Canada 
As of right now, FanDuel Canada is only legal in Ontario. This applies to both the FanDuel casino and sportsbook. Check the chart below for an overview of this.
| | | |
| --- | --- | --- |
| Province | Sportsbook | Casino |
| Alberta | × | × |
| British Columbia | × | × |
| Manitoba | × | × |
| New Brunswick | × | × |
| Newfoundland and Labrador | × | × |
| Northwest Territories | × | × |
| Nova Scotia | × | × |
| Nunavut | × | × |
| Ontario | ✓ | ✓ |
| Prince Edward Island | × | × |
| Quebec | × | × |
| Saskatchewan | × | × |
| Yukon | × | × |
Is FanDuel legal in Ontario?
Ontario is the only province to welcome private sector online sportsbooks and casinos. Because of this, there are tens of online betting sites operating in the province. FanDuel Canada is one of them.
FanDuel received its licence to operate in Ontario back in 2022. It is now a huge name in Ontario and one of the main sponsors of the CFL and NFL in Canada.
About FanDuel 
If you have watched any sports coverage over the past decade or so, you have probably heard of FanDuel. Along with DraftKings, FanDuel was one of the premier names in daily fantasy sports (DFS). Their ads were everywhere on podcasts, sports talk shows, and even during games.
FanDuel is still a big name in DFS, but it has now reached out into other markets, like sports betting and online casino games. FanDuel Sportsbook is legal in over a dozen US states (AZ, CO, CT, IA, IL, IN, KS, LA, MA, MD, MI, NJ, NY, OH, PA, TN, VA, WV, or WY). FanDuel Casino is only legal in Michigan, New Jersey, Pennsylvania and West Virginia.
Both the FanDuel casino and sportsbook are legal in Canada, but only in Ontario. This is because of stricter gambling laws in Canada. Only Ontario currently allows private operators and thus that is the only province where FanDuel has a presence.
Is FanDuel Legit? 
FanDuel is a very legit company. Not only does the company have a huge reputation earned over years of fan engagement with customers all around North America, the company has also kept up with the times to provide a safe, world-class gaming experience.
The proof is in the pudding when you look at where FanDuel is legal in Canada. FanDuel Canada is licensed to operate in Ontario and uses cutting-edge technology to make sure it follows the province's strict rules for online casinos and sportsbooks.
FanDuel is one of the largest sports gambling brands around the world and thus takes safety and security as a top priority. FanDuel is one of the most legit brands and there are no issues with the platform in terms of safety.
FanDuel Canada Legality Timeline 
Single-game sports betting has been legal in Canada for just over two years. In those short two years, much has changed. Companies, like FanDuel, have frantically moved into Canada and are competing for new market share. Here is FanDuel's journey in Canada so far.
June 29, 2021: Canada Legalises Single Event Sports Betting
Canadian Parliament passed Bill C-218 on June 29, 2021, which amended Canada's criminal code to remove penalties for illegal sports betting. Basically overnight, it became legal to bet on sports in Canada. Well, kind of. What Bill C-218 also did was leave the regulation of sports betting to the provinces. This means that it was no longer illegal to bet on sports, but it was illegal to operate a sportsbook or other illegal online gambling establishment.
It was now up to each individual province to determine how many private operators they would allow within their jurisdiction. The answer for many was none.
June 29, 2021 – April 4, 2022: Ontario Develops Legal Online Gambling Regime
Legal sports betting in Canada ushered in an era of expansion for provincial lotteries. Previously, these lotteries have held parlays, simple casino games, and other basic betting functions. Once sports betting was made legal, these lotteries expanded and began operating full on sportsbooks.
That is largely how it remains to this day, except for in Ontario. In addition to expanding its lottery-run sportsbook, Ontario decided to establish its own legal online gaming regulatory regime that would allow for private sector online gambling establishments to operate in Ontario.
This decision to open its market led to Ontario establishing a new agency called iGaming Ontario to regulate and issue licenses to online gaming operators in the province.
March 15, 2022: FanDuel Receives iGaming Ontario Licence
Ontario's new iGaming regime caught the eyes of some of the biggest and best online casinos and sportsbooks in the world, including FanDuel.
FanDuel applied to become one of Ontario's first legal online igaming operators. The company's application was successful. FanDuel was issued a licence from iGaming Ontario in mid-March 2022. 
April 4, 2022: FanDuel Goes Live in Ontario
Just three weeks after officially getting its Ontario license, FanDuel, along with a dozen other betting sites, launched legally in Ontario. The FanDuel casino, sportsbook, and app were now completely legal to play for all 14 million Ontario residents.
In the year-plus since launching, FanDuel remains as one of the best choices for sports bettors and casino games lovers in Ontario. 
May 23, 2023: FanDuel Parent Company Pushes for Quebec Legalisation
Right now, Ontario is the only province where FanDuel is legal in Canada. By basically every metric, legal online betting in Ontario has been a huge success, so companies like FanDuel are pushing for growth outside of Ontario.
FanDuel formalized its desires in May of this year by joining the Québec Online Gaming Coalition. FanDuel's parent company, Flutter Entertainment, is one of the founding members of the Québec Online Gaming Coalition, whose goal is to open up the Québec gambling market similar to Ontario's.
BetMGM, DraftKings, Bet99, betway, and many more gambling companies are also members of the Québec Online Gaming Coalition.
How to Use FanDuel in Canada 
Once you have picked out a casino or sportsbook you want to play at, the next thing you need to do is actually create your account. This often is harder than it sounds. Thankfully, at FanDuel, the process is very easy.
See our step-by-step guide below with  screenshots so you know  what  to  expect when you go to create your FanDuel account.
See our step-by-step guide below with screenshots so you know what to expect when you go to create your FanDuel account.
Visit the official FanDuel Ontario casino and sportsbook website
Select the green "Join Now" button on the top right corner of the screen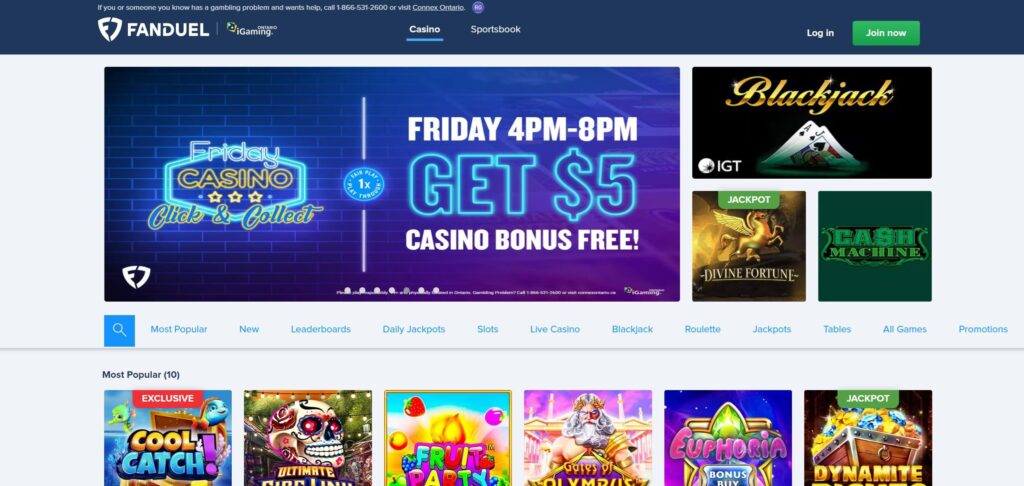 Fill out the FanDuel Canada sign up form with your name, phone number, and email address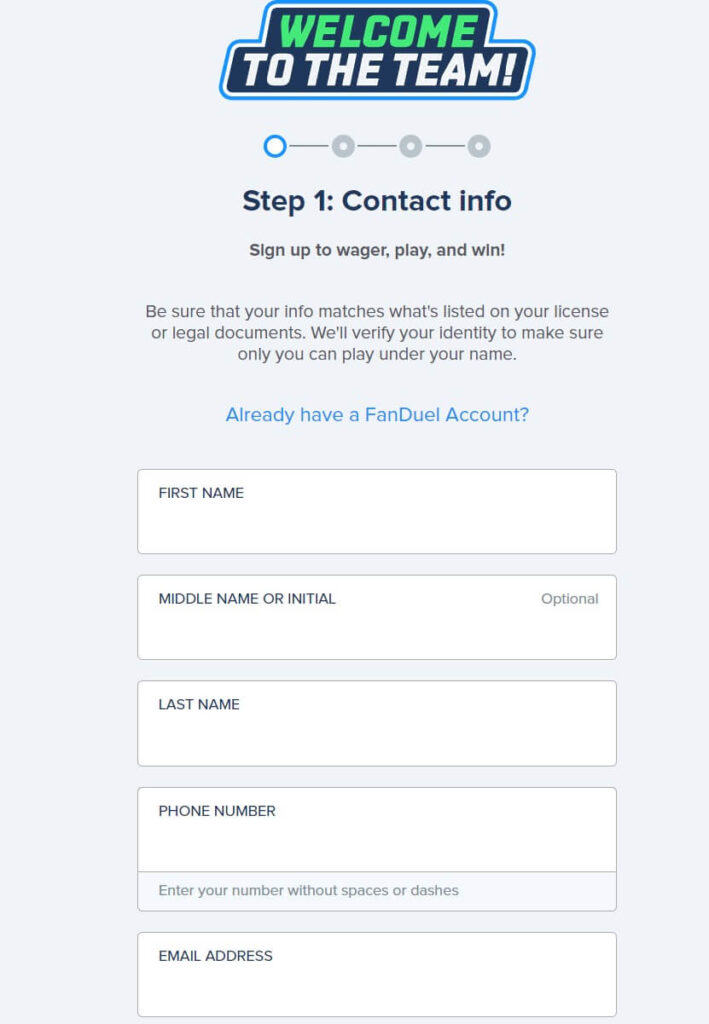 Fill in your occupation, industry, and home address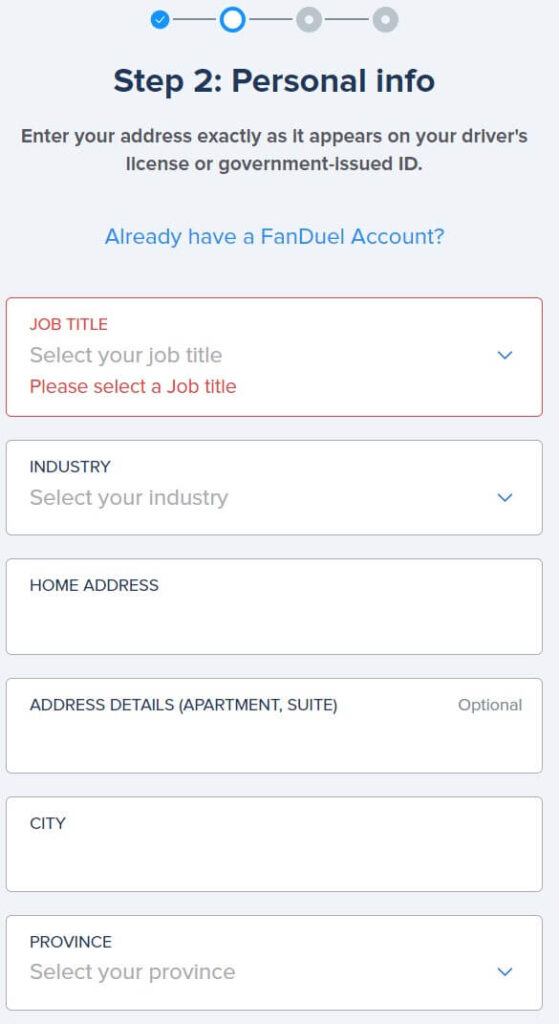 It may seem strange that FanDuel is asking you these questions about your occupation, but do not worry. This information is totally routine. All legal casinos and sports betting sites in Ontario are required to ask for this information.
Create a username and strong password that you will remember, enter your date of birth, and agree to the FanDuel Canada terms and conditions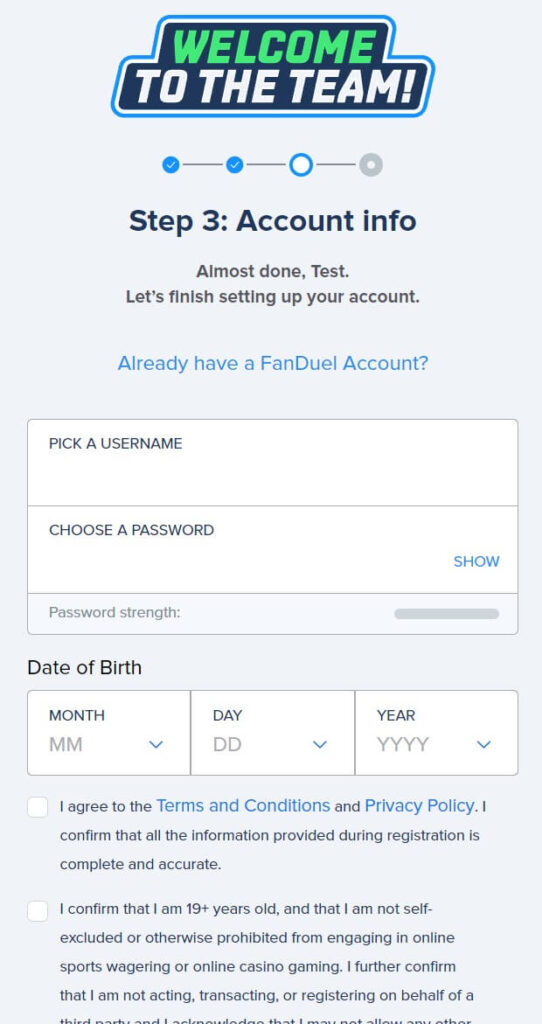 This is the last step you need to do to complete your FanDuel Canada account. We cannot stress enough that you should be sure to pick a username and password you will remember. FanDuel has great customer service, so dealing with them will not be a problem if you forget, but it is not something we would want anyone to go to when they are ready to play.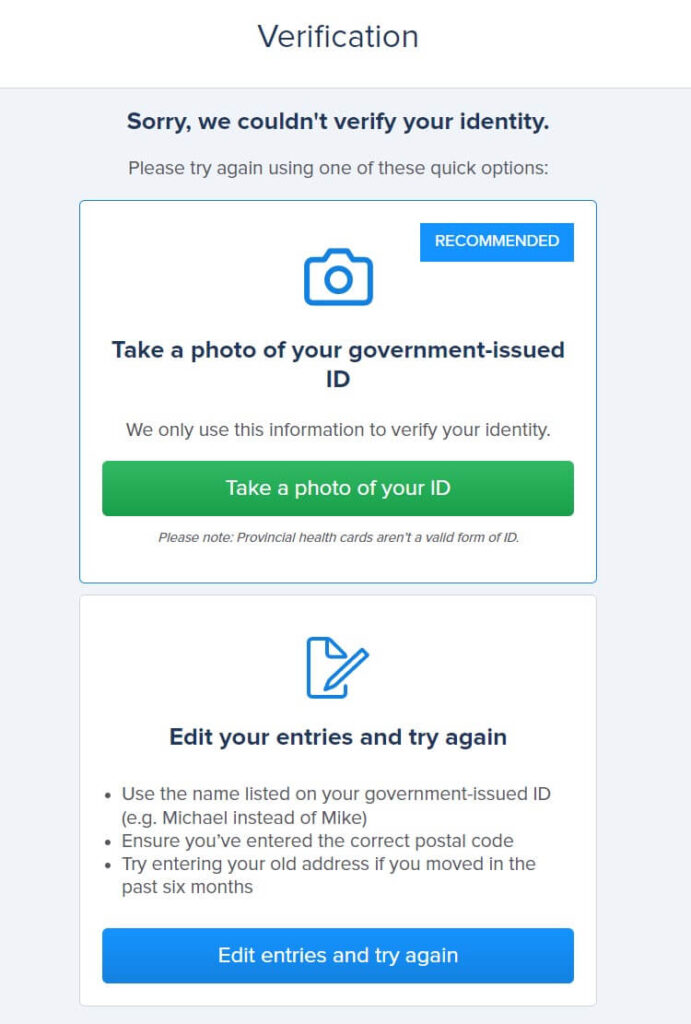 Once you have completed all the steps above and created your FanDuel Canada account, you may be asked to verify your identity before actually being able to bet.
This step is necessary because FanDuel Canada is required by Ontario law to make sure you are who you say you are. To do this, you need to upload a picture of yourself and your government ID. Your passport, driver's licence, or other government-issued ID cards will work for this step.
If you are unable to picture, you have the option of entering your information again manually. Verification using this method will take a little longer. It is also not as successful as uploading a picture, so we suggest just submitting a selfie and your ID whenever possible.
Following verification, you will be able to make your first deposit into your new FanDuel Canada account. FanDuel will make this as easy as possible for you, but you should have your preferred payment method in mind before going to make your deposit because the process may be slightly different for each method.
After getting some money into your account, you will finally be able to enjoy all that FanDuel has available.
If you like casino games, the FanDuel casino has nearly 200 of the top slots, table games, game show games, and tons of live casino games.
FanDuel Sportsbook has bets on just about anything you can think of, so it is a great choice for all kinds of sports fans. Once you are in the sportsbook, you can select the league or sport you want to bet on. If you see something you like, select it. That bet will then be added to your betslip where you can make a wager. You can also select more than one bet and easily create a parlay.
You can toggle seamlessly between the FanDuel Casino and FanDuel Sportsbook pages by clicking the Casino and Sportsbook tabs at the top of the page.
FanDuel Canada FAQs 
As you can probably tell by now, there is a lot to know about FanDuel's legality in Canada. For your convenience, here are some FAQs to summarise everything we have discussed in this article and to address any other questions you might have.
Is FanDuel available in Canada?

Is FanDuel legal in Ontario?

Is FanDuel legal in British Columbia?

Is FanDuel legal in Alberta?

Is FanDuel legal in Quebec?

Does FanDuel have casino games?

What can I bet on at FanDuel Sportsbook?

Can I use VPN to access FanDuel from outside Ontario?
---
Top Reads
Betway Sportsbook is one of the more recognizable names in the sports betting industry. But is Betway legal in Canada? Learn everything you need to know about this popular sportsbook, including how to use Betway, where there is a Betway Canada license,…

Read More

BetMGM is one of the biggest casino brands in the world. It is also now available in Canada. In this article, we at BettingOnlineCanada.com will tell you all your burning questions about BetMGM Canada, such as "Is BetMGM legal in Canada?" and…

Read More

Is FanDuel legal in Canada? Is FanDuel legit? These are the questions that we at BettingOnlineCanada.com are going to answer in this in-depth guide to FanDuel Canada. Stick around to learn all you need to know about FanDuel sportsbook and casino in…

Read More
---
Latest News
The Alcohol and Gaming Commission of Ontario (AGCO) has fined Ontario Gaming GTA Limited Partnership (Casino Woodbine) $80,000 following an investigation into allegations of dealer collusion with casino patrons. AGCO's investigation into Casino Woodbine's handling of the conduct of its dealers had…

NFL Week One kicked off last Thursday with a 21-20 upset win for the Lions over the Chiefs. Thousands of sports bettors in Ontario celebrated football being back by betting on their favourite teams and players. However, daily sports fantasy players in…

The British Columbia Lottery Corporation (BCLC) has just published its 2022-23 Annual Service Plan Report (the Report), which showed that 2022-23 was a record-breaking year for BCLC. According to the report, BCLC earned a net income of $1.64 billion in the last…
---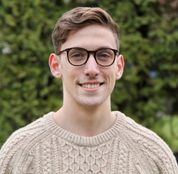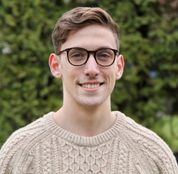 Julian Miller is a Canadian writer and an avid sports fan. He has years of experience in the iGaming industry, having started writing while completing his university studies in Montreal, Quebec. In 2022, he graduated, and has since been working full-time in the iGaming space. He has a particular fondness for the English Premier League — though he also has plenty of experience covering football, basketball, and other sports.