Welcome to the Ultimate Guide to Sports Betting in Canada! Discover the legal landscape, top sports, betting tips, and more on your journey to becoming a savvy sports bettor.
Canada's Betting Revolution: Unveiling New Rules & Strategies
In the ever-evolving world of Canadian sports betting, recent years have witnessed a seismic shift. With groundbreaking legislation and the legalization of single-game sports betting, the game has changed. This page is your passport to the latest regulations, top sports, and winning strategies that every Canadian bettor needs to know to handle this dynamic landscape with finesse.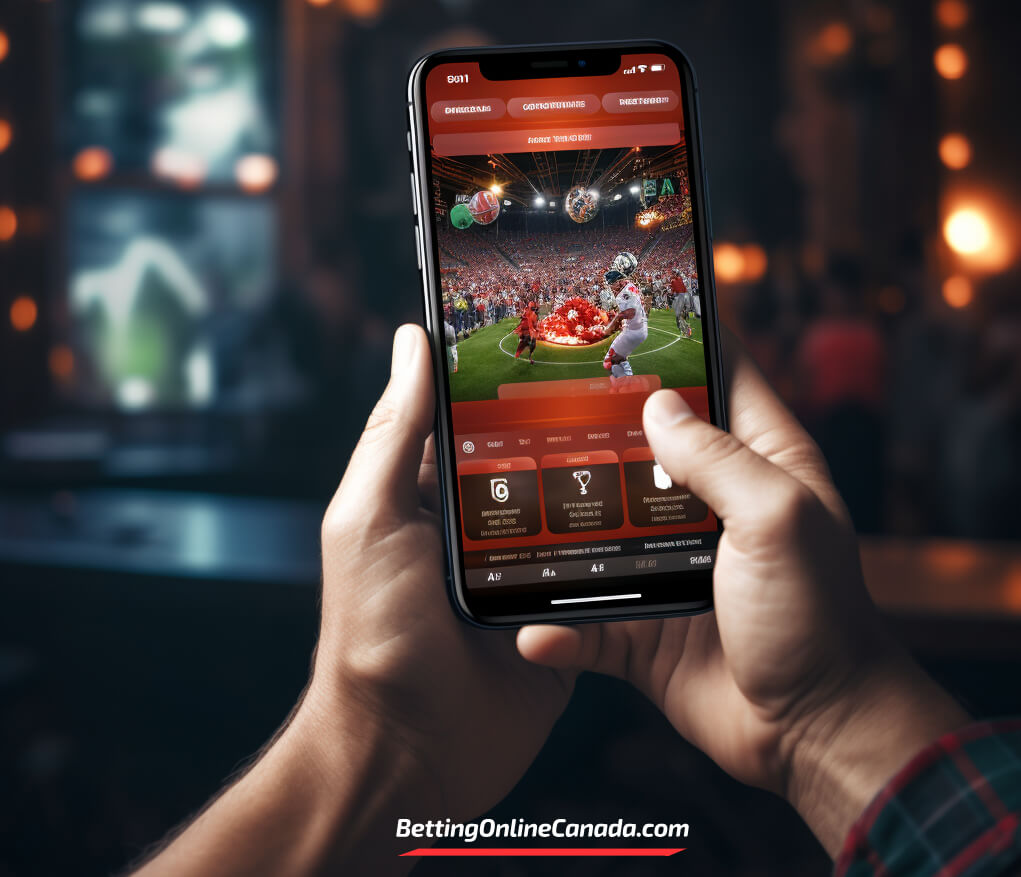 The Evolution of Sports Betting Legality in Canada: From Parlays to Full Spectrum Betting 
Before we explain how to bet on sports in Canada, we should answer the big question that's on everybody's mind: Is sports betting legal in Canada?
The landscape of sports betting in Canada has undergone a remarkable transformation in recent years, evolving from a restricted parlay-based system to a burgeoning industry that welcomes single-game sports wagering. To understand the current state of Canadian sports betting, let's embark on a journey through its complex history, recent legislative changes, and the promising future that lies ahead.
Historical Context
Gambling laws in Canada have historically been a patchwork of regulations, with the federal government overseeing some aspects while provinces had significant autonomy in others. In 1985, the Canadian government enacted legislation that allowed provinces to conduct and regulate various forms of gambling, including sports betting, within their borders. However, this legislation restricted sports betting to parlay bets, where bettors had to predict the outcomes of multiple games correctly.
The Long Road to Single-Game Betting
For decades, the legality of betting on individual sports events remained a contentious issue. Single-game sports betting was a gray area, and many Canadians turned to offshore sportsbooks to place their wagers. The lack of clear regulations and the inability to compete with unlicensed operators raised concerns about consumer protection and revenue loss for the government.
Bill C-218: A Game-Changing Moment
The turning point came with Bill C-218, the Safe and Regulated Sports Betting Act, which received royal assent in August 2021. This groundbreaking legislation legalized single-game sports betting across all of Canada, effectively dismantling the parlay-only restriction that had been in place for decades. Bill C-218 was a significant milestone, aligning Canada with countries like the United States, where single-game betting had already flourished.
The Dawn of Licensed Sportsbooks
Following the passage of Bill C-218, the floodgates opened for licensed sportsbooks to enter the Canadian market. In 2022, Ontario became the first province to launch the iGaming market, marking the government's willingness to embrace third-party online operators. iGaming Ontario and The Alcohol and Gaming Commission of Ontario (AGCO) approved a substantial number of gaming operators, including over 30 online sportsbooks, within months of the market's launch. This move signalled a pivotal shift toward greater competition and consumer choice.
Provincial Autonomy & Future Prospects
Canada's approach to gambling legislation grants significant autonomy to provinces, allowing them to shape and manage their own respective gambling laws. While federal legislation paved the way for single-game sports betting, provinces have the authority to control land-based betting facilities within their jurisdictions.
As of today, sports betting online is legal in every territory and province in Canada. The legalization of single-game sports betting has brought the industry into the modern era, offering Canadians more diverse and exciting betting opportunities. With ongoing developments in the world of Canadian gambling, the future holds promise for both operators and bettors alike as the nation continues to embrace the thrill of sports betting.
Ensuring User Security in the World of Sports Betting
While the legalization of sports betting in Canada is a significant step towards user security, several other critical factors come into play to ensure a safe and enjoyable betting experience. Legal operators go the extra mile to prioritize player safety and build trust among their users. Here's a breakdown of the security measures and practices that contribute to user security:
Licensed & Regulated Platforms – Licensed sportsbooks invest heavily in state-of-the-art encryption and cybersecurity measures. This safeguards user data and financial transactions from potential threats. Licensed operators are also subject to oversight by regulatory authorities. This ensures that they adhere to strict standards of fairness and security. Users can check an operator's license to confirm its legitimacy.
Secure Deposit Methods – Reputable operators provide a variety of secure deposit options. These include credit/debit cards, e-wallets, prepaid cards, cryptocurrencies and bank transfers, all of which are subject to rigorous security checks to protect user funds.
Responsible Gaming Tools – Legal operators are committed to promoting responsible gambling. They offer tools like self-exclusion, deposit limits, and cool-off periods, allowing users to manage their betting activity and prevent excessive gambling. They also provide resources and information about recognizing and addressing problem gambling.
Professional Customer Service – A responsive and knowledgeable customer service team is essential for user security. Legitimate sportsbooks provide customer support through various channels, such as live chat, email, and phone, to assist users with queries, concerns, or issues.
Complete Transparency

– Transparency is a cornerstone of user security. Legal operators are open about their terms and conditions, including rules, fees, and withdrawal processes. They provide clear information about their bonuses and promotions and have comprehensive privacy policies that explain how user data is collected, used, and protected.
Betting on Sports in Canada: A Quick & Easy Guide
Sports betting in Canada is a thrilling way to add excitement to your favourite games, and nowadays it's simpler than ever. Whether you prefer the convenience of online platforms or the traditional appeal of national PROLINE betting, here's a quick guide on how to place a sports bet in Canada:
Select a Sportsbook – Select a reputable online sportsbook that is licensed and regulated in Canada. Look for features like competitive odds, a user-friendly interface, and a wide range of betting options. Alternatively, you can locate an authorized PROLINE retailer near you to place your bets there, these typically include convenience stores, gas stations, and dedicated PROLINE outlets.
Create an Account – If you opt to go the online route, you will first need to sign up on the sportsbook's website or mobile app. Provide accurate personal information for account verification purposes.
Deposit Funds – Once your account is set up, deposit money using secure payment methods, such as credit/debit cards, e-wallets, or bank transfers. Ensure you're aware of any available deposit bonuses and go with the banking method you feel most comfortable with.
Navigate the Platform & Place Your Bet – Familiarize yourself with the sportsbook's platform by taking a quick moment to browse through the sports and events available for betting. Then select the sport or event you want to bet on, choose your desired bet type, and enter your stake amount.
Review & Confirm – Double-check your selections and stake before confirming or placing your bet. Many sportsbooks offer a "bet slip" for easy review.
Withdraw Winnings – Once your bets pay off, it's time to withdraw your winnings. You will typically have a smaller selection for withdrawals, but for the quickest payout, you should try using the same payment method you used for deposits.
Opening an Account: Your Gateway to Betting Excitement
So, feel ready to step into the world of sports betting? Opening an account is your first move. While we'll guide you through Betway's process, rest assured, that it's a roadmap followed by many Canadian sportsbooks. Let's get started on this quick journey to unlock the thrill of betting.
Begin Your Journey – Head to the sportsbook's website and locate the "Sign Up" or "Register" tab, typically found in the top right-hand corner.

Personalize Your Profile – It's time to share your personal details. Start by providing your first, middle (if applicable), and last name. Don't forget to include your date of birth for verification purposes.
Create Your Digital Identity – Next, set up your account details. Choose a unique username and a strong password. Safeguard your account with care. You'll also need to provide a valid email address for account-related communication.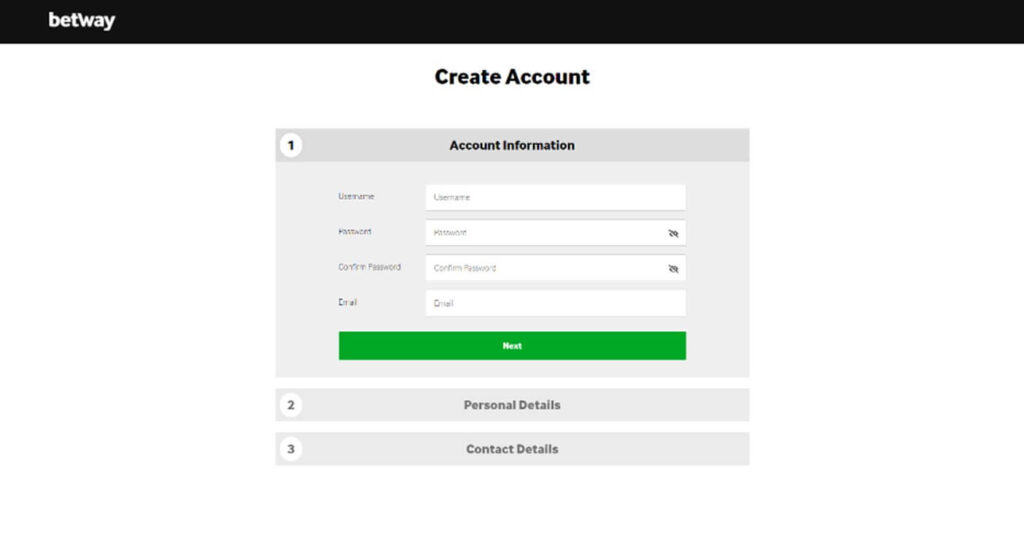 Stay Connected – Share your contact details, including your mailing address and mobile number. Some sportsbooks might ask for your preferred betting limits at this stage. Make sure to carefully read and accept the terms and conditions. Once everything checks out, hit "Continue."
Welcome to the Action – Congratulations! You've successfully created your sportsbook account. Now, it's time to dive into the thrilling world of sports betting. Explore the vast array of betting markets tailored for Canadians and set sail!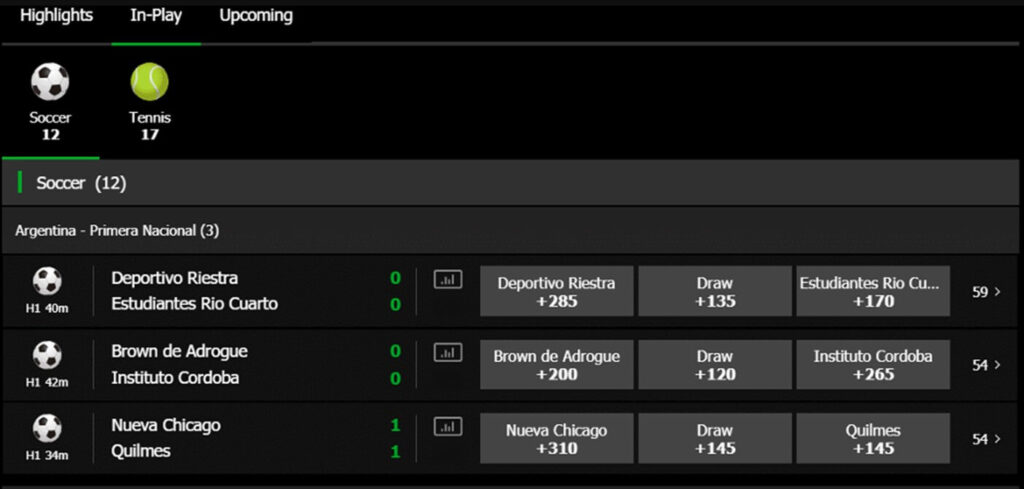 Top Sports Betting Features to Elevate Your Game
Reputable sportsbooks understand that the modern bettor seeks more than just standard wagers. They've introduced a suite of features designed to enhance the overall betting experience, allowing users to immerse themselves in the action like never before. Here are the top sports betting features offered by reputable sportsbooks and why they're invaluable:
Live Betting – Live betting, also known as in-play betting, enables users to place wagers on a game or match while it's in progress. This feature injects excitement into every second of the event. As the game unfolds, odds and betting options are continually updated to reflect the changing dynamics. Users can bet on outcomes like the next goal, point, or play, adding a dynamic element to their wagers.
Live Streaming – Live streaming allows users to watch the games they're betting on in real time, enhancing the viewing experience and enabling more informed in-play bets. Sportsbooks provide live streams of select events directly on their platforms. Users can watch the action unfold while simultaneously placing bets based on what they see.
Early Cash Out – Early cash-out gives users control over their bets by allowing them to opt to cash out a bet before the event's natural conclusion. The cash-out amount is determined by current odds and the status of the bet. It's a strategic tool that allows you to secure a portion of your potential winnings or mitigate losses before an event concludes.
Bet Builder

– Bet builder features empower users to create custom bets by combining multiple selections within the same event. Users select various outcomes, such as the number of goals, assists, or corners in a soccer match, to create a unique bet. The sportsbook then calculates the odds for the customized bet, offering more flexibility and personalization.
Top Markets, Betting Types & Odds: Unlocking Your Winning Potential 
It is impossible to know how to bet on sports in Ontario without first being aware of the diverse range of markets and bet types you have at your disposal. So, whether you're pondering the next power-play goal, anticipating a buzzer-beating three-pointer or even just wondering, "What is a prop bet in sports?" let's uncover the top markets and bet types that make your wagering adventure as exhilarating as the games themselves.
Top Betting Markets:
Moneyline Betting – Simplicity meets excitement. Bet on who you think will win the game, regardless of the score. For instance, in NHL action, you might back the Toronto Maple Leafs to triumph over the Montreal Canadiens.
Point Spread Betting – Level the playing field. This market considers the point difference between teams. If you're supporting the Toronto Raptors against the Boston Celtics, a point spread bet could hinge on whether they cover the spread by either winning or losing by a certain amount.
Over/Under (Totals) – Predicting the total score. In an MLB clash featuring the Toronto Blue Jays, you can wager on whether the combined runs with their opponent will be over or under a set total.
Futures Betting – Think long-term. Bet on events that will unfold in the future, such as predicting the Toronto FC to win the next MLS Cup or the Toronto Argonauts to clinch the Grey Cup.
Top Bet Types:
Single Bets – Keep it straightforward. Bet on a single outcome, like the Toronto Blue Jays to win a particular game. If they do, you win!
Parlay Bets – Multiply your excitement. Combine multiple bets into one, like betting on both the Toronto Maple Leafs and Toronto Raptors to win. But remember, all selections must be correct for you to win.
Prop Bets – Add spice to your wagering. Bet on specific events within a game, like whether Auston Matthews will score a goal for the Maple Leafs or how many points the Raptors will score in a specific quarter.
Live Betting – Stay in the action. Place bets while the game is in progress, such as wagering on the next goal in an Edmonton Oilers game or the next basket in a March Madness matchup.
Now that we've explored these exciting betting avenues, let's demystify the odds that drive them, ensuring you can confidently navigate the odds jungle in your quest for glory.
Understanding Betting Odds
Betting odds are numerical expressions that represent the likelihood of an event occurring and the potential payout if you win. For context, let's break down the three main types of odds: fractional, decimal, and moneyline.
Fractional Odds – Expressed as fractions, e.g., 5/1. This means you could win $5 for every $1 wagered, plus your initial stake if successful.
Decimal Odds – Displayed as decimals, e.g., 6.00. Multiply your stake by the decimal odds to calculate your potential winnings, including your initial bet.
Moneyline Odds

– Shown as positive or negative numbers, e.g., +300 or -150. Positive odds indicate potential profit for a $100 wager (+300 means you could win $300). Negative odds (-150) signify how much you need to bet to win $100. Positive odds are allocated to the perceived underdog while negative odds are given to the favourite. In Canada, this is the most common odds format.
Top Sports, Leagues, Tournaments, and Teams: Where the Action Unfolds
Strap on your skates and fasten your seatbelts because next up, we're exploring the most popular sports to bet on in Canada. Even though hockey betting is as Canadian as maple syrup, the quest to find the best sport to bet on is an ongoing adventure. In this lineup, we'll explore the excitement that transcends the ice rinks, gridirons, and racetracks.
From the bone-crunching hits of the NFL to the roar of engines in Formula 1, we'll guide you through the top sports that not only make your heart race but also offer tantalizing opportunities to strike it big in the world of sports betting.
Hockey – Hockey is more than a sport in Canada; it's a cultural cornerstone. The NHL is the primary league of choice, and Canadian teams like the Toronto Maple Leafs and Montreal Canadiens have iconic status. Legends like Wayne Gretzky and Sidney Crosby have solidified hockey's place in the Canadian psyche, making it a top pick for both viewing and NHL betting, particularly once the Stanley Cup playoffs roll around. Beyond the NHL, Canadians also closely follow international leagues like the Kontinental Hockey League (KHL), the Swedish Hockey League (SHL), the Winter Olympics and the IIHF World Championships.
Football – The Canadian Football League (CFL) offers a distinctive Canadian brand of football, with beloved teams like the Toronto Argonauts, Hamilton Tiger-Cats and Calgary Stampeders holding strong fanbases across the country. However, the NFL's Super Bowl is a national event, drawing viewers from coast to coast, with the Buffalo Bills holding a special connection to Canadians near the Ontario border. From September to February, NFL betting takes centre stage before CFL betting takes over in early June.
Basketball – Basketball's popularity soared after the Toronto Raptors' historic NBA Championship win in 2019. Now, the NBA is the go-to league, featuring top-tier talent from around the globe. Canadian stars like Jamal Murray, Andrew Wiggins, and RJ Barrett have further ignited passion for the sport. Outside of the NBA, Canadians also revel in the opportunity to wager on popular European and Asian leagues like the EuroLeague, Spain's Liga ACB, and the Turkish Basketball Super League.
Soccer – Soccer's ascent in Canada is largely attributed to the success of Toronto FC and CF Montreal in Major League Soccer (MLS). Canadian talents like Jonathan Osorio and Alphonso Davies have shined on the MLS stage, making it the preferred league for soccer fans. However, being that soccer is the most popular sport worldwide, there are several international leagues that also hold a strong presence in the Great White North. This includes the English Premier League (EPL), Spanish La Liga, Italy's Serie A, German Bundesliga, and France's Ligue 1 as well as the FIFA World Cup and UEFA Champions League.
Baseball – The Toronto Blue Jays' back-to-back World Series victories in the early '90s sparked the nation's interest in baseball. With that being said, the MLB is still the dominant league in Canada, especially with young stars like Vladimir Guerrero Jr. and Bo Bichette captivating fans and bettors alike. On top of Canadians' obsession with the MLB, there's also a deep-rooted passion for leagues like Japan's Nippon Professional Baseball (NPB), South Korea's KBO League and Mexico's Mexican Baseball League (LMB).
Tennis – Canadian tennis sensations Bianca Andreescu and Milos Raonic have brought attention to major tournaments like Wimbledon and the US Open. Canadians eagerly follow these events, both for the high-level competition and the tennis betting excitement they offer. Throughout the calendar year, residents are privy to an array of riveting betting options including the Australian Open, French Open, WTP Finals, ATP Finals, and Lavar Cup, among others.
Auto Racing – Formula 1's Canadian Grand Prix, held in Montreal, and the NASCAR Pinty's Series rev up the nation's passion for motorsports. Lance Stroll's presence in Formula 1 adds a special Canadian connection to the world of racing and F1 betting. While NASCAR, though primarily an American sport, has formed a massive following north of the border partly due to its proximity and shared passion for motorsports. In addition to F1 and NASCAR, Canadians can also wager on events like the IndyCar Series and World Rally Championship (WRC).
Mixed Martial Arts

– Canadian fighters, notably Georges St-Pierre, have elevated the UFC's status in Canada, making UFC betting practically a  national pastime. MMA fans enthusiastically follow UFC events, with each offering intense betting action and adrenaline-pumping fights. However, betting on boxing events, particularly title bouts, is quite popular as well.
Tips & Betting Strategies: Score Big with Smarter Bets 
Once you know how to bet on sports in a way that is smart and savvy, your fortunes can truly soar with every goal, touchdown, or buzzer-beater. To help you navigate this exhilarating ride and come out on top, we've gathered some essential strategies that go beyond gut feelings and lucky charms. Let's explore the game-changing tips that will elevate your sports betting game:
Line Shopping – Think of it as hunting for the best deal in a giant sports supermarket. Different sportsbooks offer different odds for the same event. To maximize your profits, compare lines across various bookmakers and choose the one that offers the most favourable odds. The absolute best thing you can do as a sports bettor is sign up with multiple sportsbooks and shop the lines for the best odds.
Statistical Analysis – This is your sports betting playbook's backbone. Dive deep into the numbers, assess team/player stats, and consider factors like recent performance, injuries, weather and head-to-head records before placing any bet. Knowledge is power, and statistics are your secret weapon. If you feel strongly enough after conducting your own research about a team or player, then go with your gut and place that bet.
Follow Trends & League News – Stay ahead of the game by keeping your finger on the pulse of your chosen sport. Follow league news, player transfers, injuries, and team dynamics to ensure you're just as informed as the oddsmakers. Being in the know can help you spot valuable betting opportunities.
Bankroll Management – It's the golden rule of sports betting. Set a budget, stick to it, and never wager more than you can afford to lose. A well-structured bankroll management system ensures you can play the long game and avoid devastating losses. Arguably the biggest mistake sports bettors make is feeling the need to chase losses or make up for what they've already lost.
Single Betting Over Parlays – While parlays can offer big payouts, they're also much riskier. Stick to single over/unders, point spreads and moneyline bets for consistent wins, and only consider parlays when you're very confident in multiple outcomes. Remember, it only takes one wrong pick to lose a parlay.
Live Betting – Utilizing the in-play option with betting apps is where the adrenaline truly kicks in. Engage in live betting when you're closely following a game and can feel the momentum shift in a certain direction. Keep an eye out for unexpected turns or opportunities that arise during the match that might present value. It's like adjusting your strategy in real time for the best possible outcome.
By embracing these strategies, you'll be armed with the knowledge and discipline needed to make informed bets, mitigate risks, and, most importantly, enhance your enjoyment of the sports you love!
Steer Clear: Sportsbooks to Dodge in Your Betting Journey
Equally as important as learning how to bet on sports is understanding where to bet on sports. With dozens of new betting sites entering the equation as we speak, it's even more critical to find a reputable platform that prioritizes transparency, security, and customer satisfaction. Here are some common characteristics we've found with sportsbooks that should be avoided:
Unlicensed – The sportsbook equivalent of the "Wild West." Avoid unlicensed operators like the plague. These shady characters operate outside the law, putting your money and personal information at risk. Always check for proper licensing before placing a bet.
Lack of Transparency – If a sportsbook is vague about its terms and conditions, it's a red flag. Reputable operators are upfront about rules, fees, and withdrawal processes. If you have to dig for information, consider it a warning sign.
Too-Good-to-Be-True Promotions – Similarly, watch out for overly generous promotions that promise unrealistically high bonuses or guarantees. If it seems too good to be true, it probably is. These offers often come with hidden strings attached.
Poor Customer Service – The best sportsbooks offer excellent customer support. If you encounter rude, unresponsive, or unhelpful staff, it's a clear sign to steer clear. You want a sportsbook that values your patronage.
Delayed Payouts

– Slow withdrawals or frequent delays in receiving your winnings are unacceptable. A trustworthy sportsbook processes withdrawals promptly. If they make you jump through hoops to get your money, it's time to bail.
Other Types of Gambling: Unlocking the Full Spectrum of Entertainment
While this is primarily designed to be a sports betting guide explaining not only how to bet on sports but also where you can legally bet on sports, Canadian gambling extends far beyond just sports betting. Whether you're drawn to the glitz and glamour of the casino floor, the strategic battles of poker, the virtual arenas of eSports, or other forms of gambling, Canada provides ample opportunities to indulge in your passion responsibly. So, let's roll the dice and explore the array of entertainment options that await you:
Casino Gambling – From the iconic slot machines and table games to dedicated poker rooms and the thrill of the live casino, Canada is home to dozens of options for casino gamblers. Whether you want to try your luck on classic fruit machines and cutting-edge video slots or consider yourself a seasoned card shark in blackjack and Texas Hold'em, Canada caters to all.
eSports Betting – Next up, prepare to dive into the virtual world of competitive gaming. Bet on your favourite eSports teams and players competing in games like League of Legends, Dota 2, and Counter-Strike: Global Offensive. You can also follow global eSports leagues and tournaments, such as the League of Legends World Championship and The International (Dota 2), to stay updated on the latest developments.
Lottery & Scratch Cards – National and Provincial Lotteries offer the chance to participate in official lottery games like Lotto 6/49, Lotto Max, and provincial draws, with the potential to win life-changing jackpots. While scratch cards offer instant gratification, revealing matching symbols or numbers for a chance to win cash prizes.
Horse Racing – Off-Track Betting (OTB) is also quite popular across Canada, allowing residents to bet on horse races taking place across the country at designated OTB locations or online platforms. In Ontario alone, there are more than 70 off-track betting facilities that are licensed by the province. Follow the odds and cheer for your chosen steed.
A Cross-Canada Journey Through Sports Betting
Canada's sports betting landscape is as diverse as its vast terrain. With each province and territory having its own set of rules and regulations, navigating the betting scene can be an adventure in itself. Here's a whirlwind tour of the various provinces and territories where sports betting is available:
Alberta – Single-game sports betting is legal both online and at retail outlets. PlayAlberta.ca offers online gambling, while Sport Select handles in-person wagers. Alberta is also welcoming additional sportsbook operators in 2023.
British Columbia – PlayNow.com launched online single-game sports betting in August 2021, and it's been a hit. British Columbia estimates a significant boost in sports betting revenue.
Manitoba – Manitoba residents enjoy legal online sports betting through PlayNow.com and retail betting through Sport Select.
New Brunswick – Single-game sports betting is available via the Atlantic Lottery Corporation's Pro-Line, both online and in retail outlets. Casinos may soon offer sports betting too.
Newfoundland and Labrador – Similar to New Brunswick, the Atlantic Lottery Corporation's Pro-Line provides both online and retail sports betting options.
Nova Scotia – Nova Scotians got their chance to bet on single-game events in 2022, thanks to the Atlantic Lottery Corporation. Online betting with Pro-Line Stadium and in-person betting at retailers are the current options.
Ontario – With the launch of PROLINE+ and a competitive iGaming market in 2022, Ontario offers a plethora of online and retail sports betting options. Many big names in the industry, like DraftKings and FanDual, are in the mix.
Prince Edward Island – PEI residents can bet on single-game events through Pro-Line Stadium online or at ALC retailers.
Quebec – Residents can place single-game bets online with Mise-o-jeu+ and in-person at select locations throughout Quebec. Online options provide flexibility and live betting.
Saskatchewan – Sport Select has offered single-game sports betting in-person since November 2021. Online betting with PlayNow.com is also available, with plans for expansion through a partnership with BCLC.
Northwest Territories – Sport Select introduced single-game sports betting in 2021, but online betting is not yet available. Residents can bet in person at participating retail outlets.
Nunavut – Nunavut joined the single-game betting club in 2021, courtesy of Sport Select. Tickets can be created online, with bets confirmed in person.
Yukon – Yukoners can place single-event wagers with Sport Select at participating retail outlets. While research and selections can be made online, all bets must be confirmed in person.
As you can see, each province and territory has its own unique betting experience, but one thing remains constant: the thrill of betting on your favourite sports. Whether you're exploring the rugged beauty of British Columbia or the serene landscapes of Prince Edward Island, you can place your bets and join in the excitement of the game across this great nation.
Licensed Sites vs. Unlicensed Sites: Where Should You Bet? 
Now that you have a clear understanding of how to bet on sports in Canada, it's crucial to take the time to understand the lay of the land. In Canada, you have two main options: licensed and unlicensed betting sites. But what exactly is the difference you may ask? Well, follow along closely!
Licensed Sites
So, you're sitting at home at the heart of the action, watching your favourite team make that game-winning touchdown. You want to place a bet, and you want to do it safely and securely. That's where licensed sports betting sites come into play. Here's why they're your best bet:
Legal Peace of Mind – Betting on licensed sites means you're on the right side of the law. It's like having a referee making sure everything's fair.
Player Protection – Licensed operators follow strict rules to protect your interests. This guarantees that all of your personal info and funds are handled in a safe and professional manner.
Fair Play – You can trust that the odds and game outcomes are legit. No funny business here!
Support for Responsible Gaming – Licensed sites promote responsible betting. They have tools to help you stay in control, like setting betting limits or taking a time-out.
Reliable Customer Service – Need help? Licensed sites often offer top-notch customer support to assist you with any queries.
Unlicensed Sites
Now, let's talk about the Wild West of sports betting  – unlicensed sites. These might seem tempting, but here's why you should approach with caution:
Legal Risk – Betting on unlicensed sites could leave you in a sticky situation with the law. It's a risky chance to take with something like online sports gambling.
No Guarantees – You're skating on thin ice when it comes to fair play. Without regulation, there's no one to blow the whistle on shady practices.
Security Concerns – Your personal and financial information might be as vulnerable as an open goal. Cybersecurity isn't a top priority here.
Limited Support – If you run into trouble, good luck getting help. Unlicensed sites often lack reliable customer support.
So, in the great Canadian tradition of playing it safe, consider sticking with licensed betting sites.
FAQs
Is sports betting legal in Canada?

Are there any restrictions on sports betting in Canada?

What are the popular sports to bet on in Canada?

Can I bet on international sports events from Canada?

How do I choose a reputable sportsbook in Canada?

What is a prop bet in sports?

Are there taxes on sports betting winnings in Canada?

Are there any bonuses or promotions for new bettors in Canada?
---
Top Reads
Cryptocurrency has risen in prominence over the last decade or so. A relatively new development is the implementation of cryptocurrencies as a form of payment for sports betting sites. In the guide below, you will learn all that there is to know…

Read More

As sports betting and casino gaming continue to gain popularity online, the way we pay for those wagers is changing. Bitcoin betting sites are becoming more prevalent. Crypto betting and crypto gambling are becoming more commonplace but are not a universal certainty…

Read More

Welcome to the Ultimate Guide to Sports Betting in Canada! Discover the legal landscape, top sports, betting tips, and more on your journey to becoming a savvy sports bettor. Canada's Betting Revolution: Unveiling New Rules & Strategies In the ever-evolving world of…

Read More
---
Latest News
GeoComply Solutions Inc., a leading tech company based in Vancouver B.C. which provides geolocation services to many legal sports betting sites in Ontario, has highlighted the growing desire for legal sports betting in Quebec. The company recently opened an office in Toronto.…

Ontario Senator Marty Deacon and Saskatchewan Senator Brent Cotter held a virtual panel on Wednesday about the future of sports betting in Canada, and specifically about the future of sports betting advertising. Deacon introduced Bill S-269 to Parliament last year. This bill…

Canadian sports betting and online casino company NorthStar Gaming has just released its financial report for the third quarter of the 2023 fiscal year (Q3 2023). Among other things, this report shows that NorthStar Gaming has increased its total gaming revenue by…
---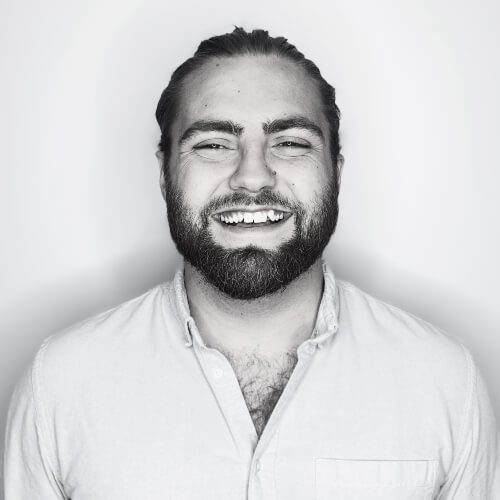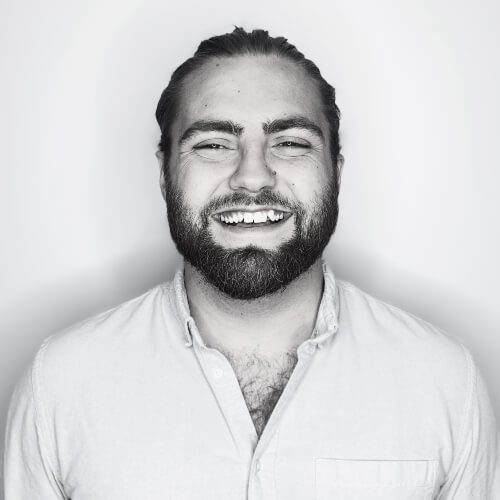 Rowan is a sports betting virtuoso with years of expertise providing in-depth commentary, analysis and coverage of amateur, professional and semi-professional sports leagues from around the world. Education from Wilfred Laurier University coupled with an authentic passion for sports has allowed him to contribute to top sites like BettingOnlineCanada, FanSided, BVM Sports, MansionBet and more.
Weaving tales of precision and finesse through the intricate world of wagering, Rowan isn't just a seasoned bettor; He's your guide to unparalleled and electrifying insights into the globe's top sports. From dissecting weekly NFL showdowns to unlocking winning World Cup betting strategies, Rowan is your ally in decoding the game within the game.