Bet365 Review by Julian Miller
Julian Miller

We reviewed Bet365 to give you an idea of how good of a sportsbook it is. We found it to be an excellent sportsbook, and a strong addition to the Canadian sports betting scene. Despite a couple hiccups around customer service, there's plenty of reason to sign up for a Bet365 account today.
---
Bet365 Sportsbook Review
Bet365 sportsbook has, in a short period of time, become one of the top names in the sports betting world. As far as Canadian sports betting sites go, you would be hard-pressed to find a better option than Bet365. With a full slate of sports betting markets, live betting, and one of the best mobile options thanks to the Bet365 mobile app, it is easy to see why Bet365 has become a preferred name in the sports betting industry.
Bet365 Sport
Huge variety of banking options
Fast customer support
Super user-friendly design
World class Bet365 mobile app
Sign up bonus
100% matching deposit up to $500
Play Now
Bet365 Sportsbook Likes and Dislikes
What makes Bet365 so good? Let's take a look at the strengths and weaknesses of Bet365 Ontario in this comprehensive Bet365 Sportsbook review.
Bet365 Sportsbook Likes
There is a lot to like about Bet365 Canada. For starters, there is a full slate of sports betting markets to choose from. Whether you like MLB betting, NHL betting, or something else, there is a little something for everyone.

The live betting feature is also a real strong point. Being able to place bets on games already in progress is something that gives players the chance to feel out the action before placing a wager. Odds change in real-time, providing even more opportunities to win.

Finally, the odds are some of the best in the industry. Bet365 consistently offers some of the sharpest odds in North American sports betting. Players seek out value on a regular basis and Bet365 competes with the other top names.
Bet365 Sportsbook Dislikes
No sportsbook is perfect, and Bet365 Ontario certainly has its weaknesses. While they are not numerous, there are two issues worth noting. The first is that there is no dedicated loyalty rewards program. Something to show love to the frequent players would be more than welcome.

Secondly, there is the lack of a phone support feature.  Yes, you can reach Bet365 Canada by email or through the live 24/7 chat feature, but it would be nice to talk to someone every now and again. It is a matter of preference for some and certainly not a deal-breaker.
Conclusion
At the end of the day, there is a lot to love about Bet365 Sportsbook. This Bet365 review shows that superior live betting, a vast array of sports betting markets, and top-of-the-industry odds are more than enough to offset the minor weaknesses.
Bet365 profile
Website:
https//www.bet365.ca/
Company:
Bet365 Group Ltd
Year founded:
2020
License & regulation:
The Alcohol and Gaming Commission of Ontario (AGCO)
Contact information:

[email protected]

, 24/7 live chat
Sponsorship Deals:
None in Ontario yet
Headquarters:
Hillside Festival Way Unit 2, Stoke-on-Trent, ST15SH, United Kingdom
Contact information/Support:

[email protected]

, 24/7 live chat
Payment Methods:
Visa, MasterCard, Interac, Apple Pay, iDebit, InstaDebit, Paysafecard, bank transfer
Deposit Methods:
Visa, MasterCard, Interac, Apple Pay, iDebit, InstaDebit, Paysafecard, bank transfer
Withdrawal Methods:
Visa, MasterCard, Interac, iDebit, InstaDebit, bank transfer
Payout time:
N/A
Top Features:
Live betting, live streaming, early cash-out, one-wallet
Apps Devices:
Android and iOS
Odds Providers:
Bet365
Casino:
Yes
Casino game types:
Slots, blackjack, roulette, video poker
Casino providers
Microgaming and Playtech
Bet365 Sportsbook's Review – Our Expert Highlights
Our job in reviewing Bet365 is to provide a clear, concise, and unbiased review of what the book has to offer. The good news for bettors is that this is one of the best sportsbooks out there. Signing up is quick and easy, the bonuses are better than a lot of the "first bet protection" promotions out there, and there are more sports than you can imagine.
If I had to pick out one thing that is lacking, it is that there is no rewards program. Though that is a glaring omission, this is definitely one of the best sportsbooks out there. Bet365 is one of the most complete sportsbooks out there.
Bet365 Sportsbook Review Scores
Bonuses & Offers: Bet365 is among the most competitive in the market with bonus offers. A staple offer has been one where players can bet $1 and get $200 in bonus bets. Quick and easy to claim these bonuses as well.
Betting variety: Any bet type or betting market you can think of, Bet365 has it. The top leagues in the world with the most popular betting types available means no shortage of action to partake in.
Banking options: Though the banking options aren't the most robust around, there are still plenty to go around. Offering Interac is a huge plus for Canadian customers as well.
Payout speed: Payout speed depends on your preferred method. While bank transfers can take up to 10 business days, most others process within 24 hours.
Key features: Bet365 has a litany of great features that help it stand out. Live betting, live streaming, a cash-out option, and the one-wallet feature make betting smoother and easier.
App & mobile experience: One of the best mobile apps out there. The Bet365 app provides a quick, smooth, easy betting experience each time.
Security and Trust: State-of-the-art SSL encryption technology keeps player data and information safe from the point of sign-up and beyond.
Licensing: Licensed and regulated by the Alcohol and Gaming Commission of Ontario (AGCO), providing a fair, safe gaming and betting platform for all customers.
Software & Games: Though it isn't the fanciest software out there, the Bet365 Casino is as smooth as it gets. All of the top games – slots, blackjack, roulette, and more – are available in both standard and live dealer options.
User betting experience: Placing a bet is quick and easy. Within less than a minute, you can have your wager placed and go about your business.
Sign-up process: The verification process drags this one down a bit but it's hard to complain about being safer and more secure.
Customer support: The lack of a phone support option hurts but the live 24/7 chat feature more than makes up for it, providing quick and easy resolution regardless of customer issue.
Is Bet365 Legal in Canada?
Choosing a bookmaker is about more than placing bets. You need to know that your information is safe and that you have a fair chance to win with each bet. For that reason, the sportsbook you choose needs to be as legitimate and legal as they come.
Bet365 Sportsbook is as legitimate as they come. Beginning with the United Kingdom, Bet365 has become a well-known name in the sportsbook industry. More importantly, they have licensing in the United Kingdom, showing that they are serious about providing a safe space for betting.
Is Bet365 Legal in Ontario?
Online sports betting officially launched in a regulated manner back on April 4, 2022. Bet365 was among one of the first sportsbooks to procure a license with the Alcohol and Gaming Commission of Ontario (AGCO). Proper licensing provides peace of mind and ensures a fair, safe place to bet.
Bet365 Sportsbook's Best Sports Features
Sportsbooks largely provide the same basic service. Pick a betting market, choose your bet type, and post a stake. The concept is simple, but the features are what set one sportsbook apart from the rest of the pack. The good thing is that Bet365 Canada offers a slew of great features to improve the sports betting experience.
Bet365 live betting
Live betting is a staple of any good sportsbook. Bettors can get involved with the action at any point, even after the game has started. Players can take advantage of changing odds in real-time, providing more opportunities to win even if you miss the start of the game.
Bet365 live streaming
One of the fun things about making a bet is tracking that bet. With the live streaming feature, players can keep up with select games live through the Bet365 app and website. With real-time stats, you will stay informed while enjoying the action. You can also watch lots of games as they unfold, giving you the ultimate sports experience in the Bet365 app.
Bet365 responsible gaming
At the end of the day, sports betting is meant to be fun. With the help of responsible gaming tools, bettors can keep track of bet limits, loss limits, wager limits, and more.
Bet365 one-wallet system
The one-wallet system means not having to fill out information for all of the Bet365 Canada offerings. When you enter a payment method, it transfers to the casino, poker room, and more. It is simple to navigate between platforms in no time.
Bet365's sports coverage
What good is a sports book if you can't wager on all of the most popular sports happening that day, week, or month? Thankfully, Bet365 delivers by featuring all of the top sports and sporting leagues from around the world. Like most bookmakers, the NHL, NFL, NBA, and MLB are covered. But for those who love niche sports, there are offerings that other bookmakers might not carry like alpine skiing.
Most popular betting markets
Bet365 NHL betting
Hockey is without question one of the most popular sports in Canada and Bet365 delivers with all of the great NHL action. Wager on games throughout the season, bet on futures for each team and select players, and partake in a litany of player props for each contest.
Bet365 NFL betting
The NFL has become one of the most popular sports in the world and is growing in popularity in Canada. There are options for every game throughout the season with some of the most popular futures bets being on who will make or win the Super Bowl.
Bet365 NBA betting
Because of the Toronto Raptors' NBA Championship win a few years ago, the NBA has skyrocketed in popularity in Canada in recent years. Like the other top leagues, there are markets available for each game, including a huge selection of player props like points, assists, and rebounds.
Bet365 MLB betting
During the summer, there are fewer options available to bet on. Baseball becomes king and there are a ton of ways to win on the MLB. You can even bet on action over the first five innings as opposed to a full game, plus batter and pitcher props for each contest.
Bet365 sponsorship deals
At this moment, Bet365 does not currently have any partnership deals. This is largely due to the iGaming industry starting to pull back on advertising after backlash during the NHL playoffs.
Bet365's Types of Bets Available
The hallmark of any good sportsbook comes down to the available betting markets and bet types. Without those, even the greatest features in the world won't mean a whole lot. Thankfully, Bet365 delivers on that front.
Betting markets and bet types are oftentimes comparable. A betting market is anything offered by the sportsbook from a sports betting aspect. But then there are the bet types, a specific way in which bettors can place wagers.
Bet365 Betting Markets
Bet365 offers action from all of the top sports leagues in the world. You will find action from the NHL, NBA, NFL, MLB, UFC, and more. There is action from F1 racing, golf, tennis, and even more niche markets like water polo and alpine skiing. You name it and it is available at Bet365 Sportsbook.
Bet365 Types of Bets Available
The type of bet can oftentimes be lumped in with betting markets, but for the purposes of this Bet365 review, let's keep them separate. There are a ton of different betting options available to provide even more chances to win. Here are some of the most common bet types you will find at Bet365.
Money line. The money line is the simplest way to bet. All you need to do is choose who will win the contest without having to worry about point totals, player performances, or any of the other factors involved.
Point spread. Because the odds are generally less favourable for money lines, the spread is the great odds equalizer. A team must either win by a specific amount or, in the case of the underdog, lose by less than that amount or win outright. Odds for spreads tend to be as close to "even money" as it gets.
Over/under. If you aren't very confident in the outcome of the game, another avenue involves betting on the total number of points/goals/runs to be scored. Choose whether that total will come in over or under the amount set by the sportsbook.
If you want to place more than one single bet on a ticket, the parlay is the best option. Make your selections and they will populate in the bet slip. The more bets or "legs" involved, the steeper the odds will be. Though they are tougher to hit, parlays can be a fun way to get taller odds and the chance at a much bigger win.
If you fancy yourself to be something of a Nostradamus, a futures bet allows you to pick the future. Futures can involve individual player achievements but tend to revolve around a team making the playoffs, making a conference championship game, or winning the league championship outright. 
How to place a bet
Placing a wager, whether through the Bet365 app or the website, is as simple as it gets. It starts by logging into your account. When you do so, you will immediately be taken to the home page where the featured games of the day are displayed.
Find the market that you are most interested in and make one of the aforementioned wagers. Any picks that you make will populate in the bet slip, where they can be edited and reviewed before you finalize the bet. When you are ready to finish your pick, head over to the bet slip area.
The final step in the process is to post a stake. You can wager your own money or use any bonus bets you may have available here. Review the stakes and terms, clicking "place bet" to make it final. All that's left to do is hope for a winner!
Bet365 Review: Mobile App
The Bet365 mobile app makes it simple to sign into your account and begin wagering. The app is available for download on iOS and Android devices through their respective stores. The download takes no more than a minute and once you log in, you can begin taking advantage of current offers and start placing bets.
The Bet365 app for Android and iOS is one of the smoothest among sports betting apps. The interface is clean and easy to navigate, menu options are laid out clearly, and there are no gaps between the desktop site and the mobile app. Placing a bet is easy, too. Click on the event, make your pick, enter your stake, and tap "place bet" and your wager will be placed in a few short moments.
Mobile app promotions
Some sportsbooks offer app-specific promotions to entice players to sign up for the mobile option. While Bet365 doesn't have any specific offerings related to the app, players can access all of the top promotions whether using the app or the website.
An example of one of the Bet365 offerings sees players get $200 in bonus bets for simply placing a $1 wager. When the event settles, players will have $200 in bonus wagers to use on any and all of the great sports action happening at any given time.
How to open an account with Bet365 Canada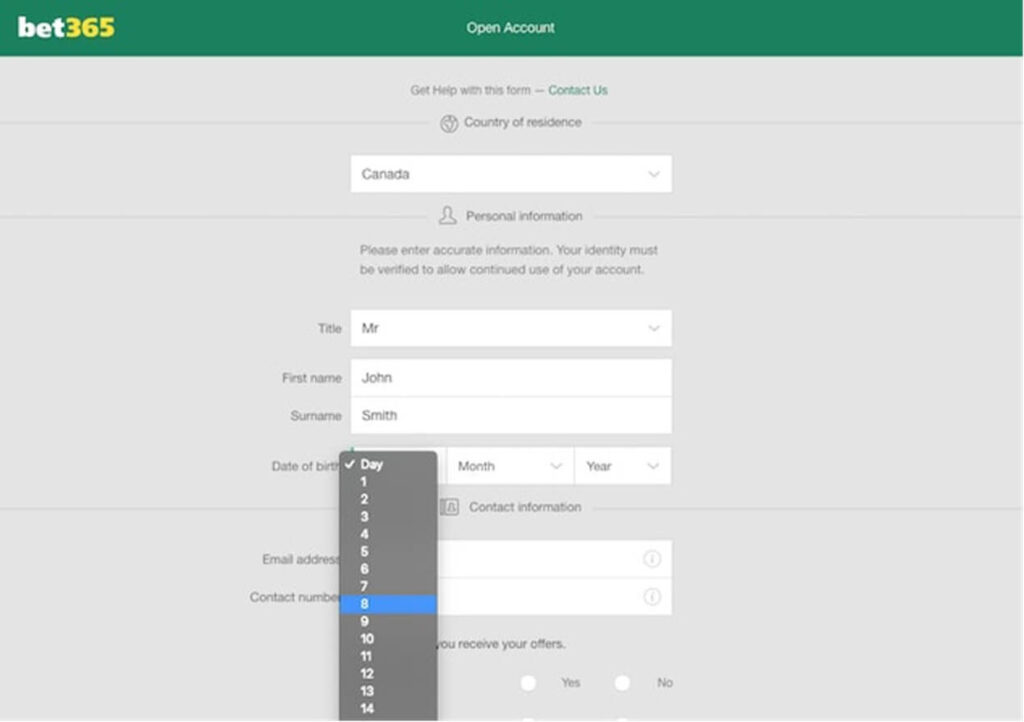 Getting started with Bet365 is simple, making it one of the best sports betting sites to sign up for. The process takes no more than a few minutes, though the verification process could extend your registration a bit longer.
It is a simple, short form that should only take a handful of minutes to fill out.  You will need to fill out things like your name, email address, physical address, and more, but Bet365 has the best encryption technology available to keep sensitive player information safe each step of the way.
Steps to open an account with Bet365 Canada
Getting started is as simple as it gets. Begin by clicking on a link or by going directly to the Bet365 website. Click or tap on "create account" at the top of the screen and you will be taken to a short form. The form will ask for basic information like your name, phone number, address, and email, and you will also be prompted to pick a username and password.
When you have finished filling out that information, verification may be required. Most of the time, you can simply provide a photo ID to get the job done. Sometimes you will need to provide a banking statement or proof of address to verify your information.
The final portion of the process is to make a deposit (can't play without money). Click on the icon in the upper right corner and you will be taken to the banking portion of the site. Set up your currency (CAD), enter in your preferred banking information, and the amount that you want to deposit. That's all there is to it!
Sign-up steps
Click link or go to Bet365 website
Click "create account"
Fill out essential information to continue
Complete verification process
Make a deposit
Bet365 Sportsbook Deposits and Withdrawals
Banking options are oftentimes the most overlooked feature of sportsbook customers. But at the end of the day, players need to have confidence that they can get money into and out of their accounts. The Bet365 withdrawal and deposit options are available in spades.
For making deposits, there is a lot to love.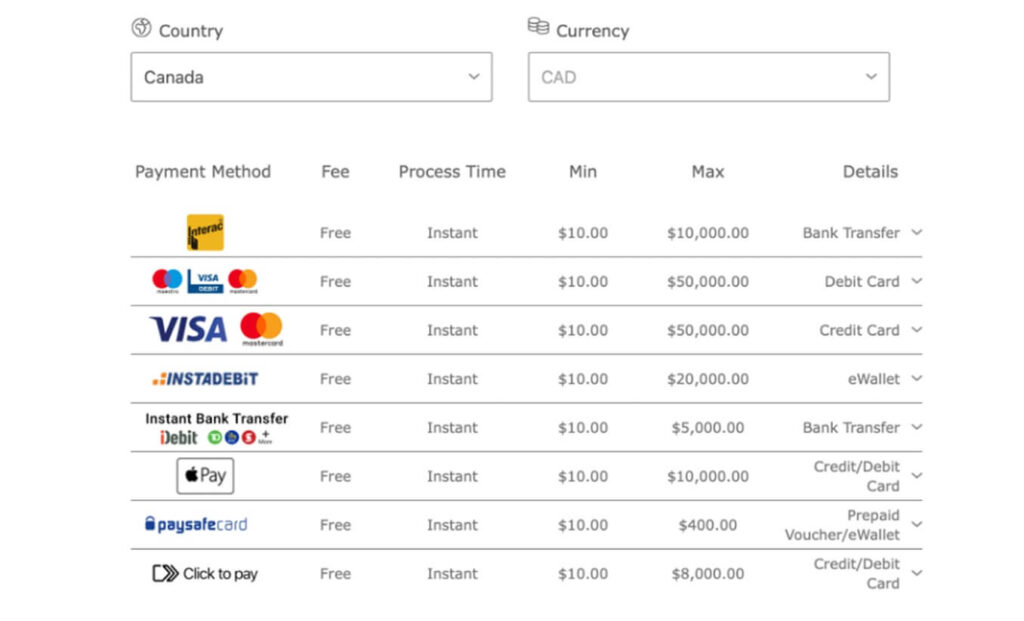 For starters, there is a huge selection of options to choose from. Visa, MasterCard, Interac, iDebit, InstaDebit, bank transfers, Paysafecard, and even Apple Pay, which isn't available through very many sportsbooks. Deposits are instant with very few limitations.
When it comes to your options to make a Bet365 withdrawal, there are only a few less options than deposits. Visa, MasterCard, Interac, iDebit, InstaDebit, and bank transfers, all with varying processing times, are available.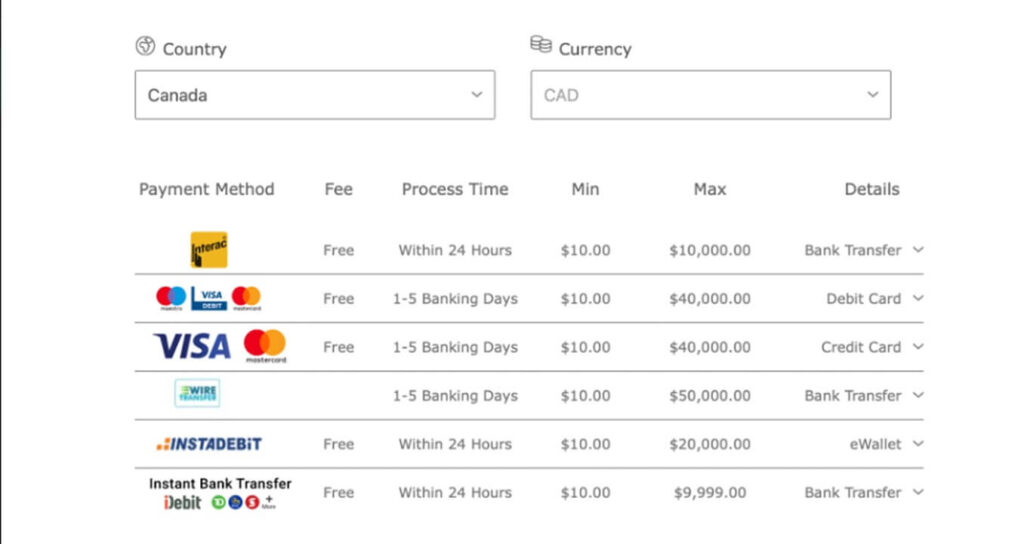 | | |
| --- | --- |
| Withdrawals | Visa, Mastercard, iDebit, Interac, InstaDebit, bank transfers |
| Deposits | Visa, Mastercard, iDebit, Interac, InstaDebit, bank transfers, Apple Pay, Paysafecard |
Bet365 Canada Customer Service
Customer service at Bet365 is something that is taken very seriously. There are a few different ways that you can get in contact with someone at the sportsbook.
Live Chat: You can access a 24/7 live chat on the Bet365 website. This will get you in touch with someone no matter what time of day it is. This is a great way to get help with many of the issues that you may run in to at the sportsbook.
FAQ: The Bet365 FAQ in the help centre has a lot of helpful guides that contain the answers to different questions. This is a great starting place for any issues that you may be having with the platform.
Email: By contacting [email protected], you can get in touch with someone that works at Bet365. This is a great way to get some more serious help with larger issues at the sportsbook.
Unfortunately, there is no phone support available at Bet365 at this time. However, the rest of these options should be more than enough.
Alternatives to Bet365 Canada
It would be untrue to pretend like Bet365 is the only option for sports betting sites out there. Let's take a closer look at the alternatives and how they stack up in comparison.
Sports Interaction: Sports Interaction is one of the largest online gaming and sports betting companies out of Quebec. SI offers some of the best bonuses in the industry, a comprehensive mobile app, and a full slate of sports odds to bettors in Ontario.
Betway: Betway has been a longtime staple among Canadian sports betting sites. Betway offers competitive odds and bonuses, not to mention the fact that they have a great mobile app as well.
888sport: When it comes to new betting sites in Canada, 888sport does many things right. A huge selection of sports betting markets, live betting, and more provide players with plenty of chances to win.
Bet365 Canada FAQ
What sports does Bet365 Ontario offer?

Is there a license for Bet365 sports betting?

Does Bet365 have a mobile app?

What are the best features of Bet365 Canada?
Bet365 Sportsbook Review Conclusions
Whether you are new to the sports betting world or have been around for a while, there is no denying that Bet365 Canada is one of the best names in the industry. With competitive odds, a great live betting feature, and the Bet365 mobile app, there is nothing that you can't do at Bet365, one of the top Canadian betting apps.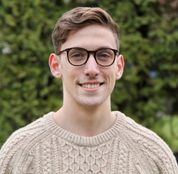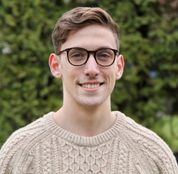 Julian Miller is a Canadian writer and an avid sports fan. He has years of experience in the iGaming industry, having started writing while completing his university studies in Montreal, Quebec. In 2022, he graduated, and has since been working full-time in the iGaming space. He has a particular fondness for the English Premier League — though he also has plenty of experience covering football, basketball, and other sports.