DraftKings Sportsbook is one of the highest-profile sportsbook platforms in North America. But is DraftKings legal in Canada? The answer is not always as simple as you would expect. Let's get into the deep end and determine whether DraftKings is legal to use in Canada or not.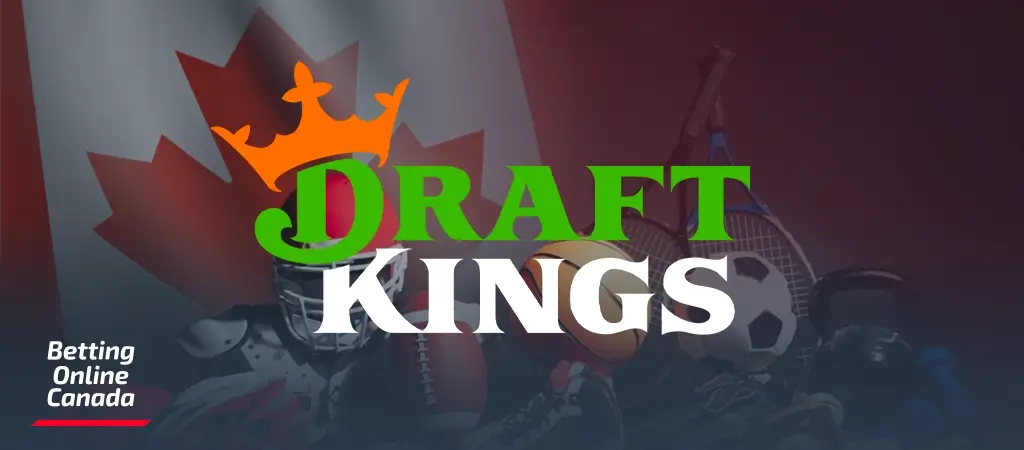 Where is DraftKings available in Canada?
DraftKings Sportsbook and Casino are available because DraftKings is licensed and regulated in Ontario thanks to iGaming Ontario. Not only does this provide easier access but also provides peace of mind when it comes to safe, fair gaming.
As of now, DraftKings Sportsbook is not legal in any other province. It does not fall into the "offshore" category that other sites – registered in the United Kingdom, Gibraltar, Malta, etc. – fall into. For that reason, it is technically not legal to use in provinces other than Ontario. There is some optimism that there will be a change in this status, though nothing is certain as of yet.
Where is the Casino Version of DraftKings Canada Available?
DraftKings is more than just a sportsbook. DraftKings Casino has become a hugely popular option for players looking to partake in online casino games like poker, blackjack, slots, roulette, and more. The question becomes where, if anywhere, is DraftKings casino made available. The answer is that it is the same as the regulations on the DraftKings Sportsbook in Canada.
Currently, DraftKings' casino is only available in Ontario. That's because DraftKings has a license with iGaming Ontario, the regulatory commission for the province. Is DraftKings legal in British Columbia? Is DraftKings legal in Alberta? For now, the short answer is "no" but it is expected that more provinces and territories will offer regulation in the near future.
How DraftKings Sportsbook Became Legal in Canada
DraftKings, much like other sportsbooks, became officially legal in Ontario on April 4, 2022. This is the date when the province became the first to launch regulated sports betting and casino gambling in Canada. In accordance with the launch, several sportsbooks, including DraftKings, obtained an official license to operate within Ontario.
Though it is expected that more sportsbooks will apply for a license in Ontario, especially given the early success that the industry has been experiencing. The DraftKings license was one of the first granted and has only furthered the company's reputation as a top-tier sportsbook.
Where is DraftKings Legal in Canada?
On the surface, it can be difficult to know just where and how to use DraftKings. For that reason, it helps to have a complete list of the places where DraftKings is and isn't legal. Check out the table below to see where DraftKings stands as far as legality in each province.
| | | |
| --- | --- | --- |
| Province | Sportsbook | Casino |
| Alberta | × | × |
| British Columbia | × | × |
| Manitoba | × | × |
| New Brunswick | × | × |
| Newfoundland and Labrador | × | × |
| Northwest Territories | × | × |
| Nova Scotia | × | × |
| Nunavut | × | × |
| Ontario | ✓ | ✓ |
| Prince Edward Island | × | × |
| Quebec | × | × |
| Saskatchewan | × | × |
| Yukon | × | × |
Is DraftKings legal only in Ontario?
For now, only in Ontario it is legal to use DraftKings Sportsbook. The DraftKings license was obtained prior to the April 4, 2022, launch of legalized sports betting and online casino play in Ontario. The regulation of sportsbooks and online casinos has made it completely legal for players to join those with official licenses in the province.
Where it is illegal: Is DraftKings legal in Canada? Aside from Ontario, there are no other provinces or territories where it is legal to use DraftKings. Because it does not have a license from any other jurisdiction in Canada, DraftKings stays away.
About DraftKings
Compared to some of the major offshore betting sites, DraftKings is still relatively new as a company. It was created in 2012, established by former Vistaprint employees Paul Liberman, Matthew Kalish, and Jason Robins. Initially, the platform was not about betting on major sports events, but rather a means to play daily fantasy sports.
DraftKings became one of the top mobile apps for participating in daily fantasy sports contests. Whereas most fantasy leagues to that point were season-long endeavors, DraftKings offered a daily fantasy format. Customers could assemble lineups and place bets on each game or evening of action. It offered a "quick fix" alternative to the traditional fantasy format.
As sports betting became legal in the United States and Canada, DraftKings expanded. It has since become one of the top betting sites in the market. On top of that, DraftKings has one of the best-rated betting apps in the mobile market, allowing players to log in and get their wagers in no matter where they are.
In addition to offerings for Ontario, DraftKings is available all throughout the United States. Currently, bettors can place wagers with DraftKings Sportsbook in Arizona, Connecticut, Colorado, Indiana, Illinois, Kansas, Iowa, Louisiana, Michigan, Maryland, New Jersey, New York, New Hampshire, Oregon, Ohio, Tennessee, Pennsylvania, Washington, Virginia, West Virginia, and Wyoming.
However, in Canada DraftKings is still only available in Ontario. If you live in a different province, you will need to wait for DraftKings to arrive.
Is DraftKings legit?
Is DraftKings safe and legit? That is without a doubt one of the most important questions when it comes to signing up with an online sportsbook. Customers will be happy to know that DraftKings is one of the safest and best-rated sportsbooks offered in Ontario or anywhere else. You don't get to become a top book in the industry without doing quite a bit right.
However, there are strict geolocation rules when it comes to DraftKings. Is DraftKings legal in Quebec? Unfortunately, as of now you cannot use DraftKings in Quebec, only in Ontario.
For residents of Ontario, there is another perk. The DraftKings Casino is also available, offering a plethora of top casino games like blackjack, roulette, slots, baccarat, and more. Though the question of, "Is DraftKings available in Canada" or "Is DraftKings legal in British Columbia" is not necessarily the simplest to answer, at least bettors in Ontario can enjoy all of the great features and services that DraftKings has to offer.
DraftKings Canada Legality Timeline
While the main question becomes, "Is DraftKings legal in Canada" there is a lot of ground to cover before getting to its current status in Canada. We will cover how to use DraftKings later on in this guide, but it helps to take a trip back in time and find out how DraftKings got started, where they've been, and the potential path moving forward.
2012: The Start
DraftKings launched in 2012 with the three founders – Matthew Kalish, Jason Robins, and Paul Liberman – leaving their positions as executives of VistaPrint. They had a vision in mind for analytics and customer acquisition, while also applying a similar passion for fantasy sports. The early stages began in Liberman's Watertown apartment but quickly grew from there.
DraftKings began offering daily fantasy sports as one of the two major names in the industry. The DFS realm aimed to bring the fun of fantasy sports into a more digestible format. Traditionally, those leagues were played throughout a full season, with many months passing before a winner was crowned.
The new format allowed players to partake in their favorite fantasy sports without having to invest so heavily from a time standpoint. Soon, DraftKings became established and signed funding deals with Fox Sports and ESPN.
2014-2015: Daily Fantasy Kings
By 2014, DraftKings became the second-largest name in the DFS market behind FanDuel. Though it faced challenges from the attorneys general of Illinois, Mississippi, Hawaii, Nevada, New York, and Texas – who argued that DFS sites violated those states' betting laws – the DFS realm began to become a dominant market.
What is interesting is that the aforementioned pressure from states ultimately led to a discussed merger between DraftKings and FanDuel in November 2017. Unfortunately, the Federal Trade Commission filed suit, stating that the merger would violate antitrust laws. Given that the new entity would control 90% of the market share, it is pretty easy to see that the suit was more than justified.
With more competitors in the DFS market, DraftKings determined that there was another move on the horizon: sports betting.
2019: The Foray into Becoming a Sportsbook
The next logical step for DraftKings became to enter the sports betting market. In that regard, DraftKings became a standard bearer. As a matter of fact, DraftKings became the first officially licensed online sportsbook out of Nevada, opening shop in New Jersey in 2019.
DraftKings became a trendsetter in the sports betting industry because of its unique cache of features. For starters, it was the first sportsbook to offer the now-popular cash-out option. Bettors were given the ability to cash out on current bets before they were finalized, and the feature has since become one of the must-haves for new sportsbooks. The betting carousel, with a rotating display of wagers (based on betting history and stated preferences), also became a major feature that other sportsbooks emulate even today.
April 2020: Going Public
Because of the success of DraftKings Sportsbook, it wasn't long before it became one of the dominant brands in the market. Whenever a new state passed legislation allowing for online sports betting, DraftKings was right there on the launch date, offering its services to the new state.
When companies even that large start to grow at a rapid rate, capital infusions are necessary to keep things moving along. For that reason, DraftKings went public by getting involved in a reverse merger with Diamond Eagle Acquisition Corp. The reason for this is that Diamond Eagle was already actively trading on the Nasdaq. The merger included SBTech, a gambling tech provider, creating one larger gambling entity. DKNG began trading publicly in April 2020 with a market capitalization of $3.3 billion.
April 2022: Launching in Ontario
Not content to be one of the dominant names in the United States, DraftKings turned its attention north of the border. Ontario announced plans for a fully regulated online gaming and sports betting market to launch in 2022.
DraftKings pursued a license shortly after the announcement, becoming one of the first sportsbooks to obtain a license in Ontario. With a DraftKings license in tow, the company became legally available in the province on April 4, 2022, with the official launch in Ontario.
Numbers have proven to be even larger than expected, with online sports betting and casino gaming becoming a raving success in Ontario. DraftKings is one of the top names in the Ontario sportsbook industry already and will no doubt continue to grow as more provinces introduce regulated sports betting.
How to Use DraftKings in Canada
For users in Ontario, the next question to ask after "Is DraftKings legal in Canada" or "Can you use DraftKings in Canada" is how to use DraftKings. The good news is that DraftKings makes it as simple as it gets to start placing wagers on all of your favourite sporting events.
Read on in this BettingOnlineCanada article to find out everything you could possibly need to know about getting started with DraftKings. Find out how to register, what the verification process is, how to make a deposit, and what you need to do to start placing wagers with the vaunted sportsbook.
Registering for an Account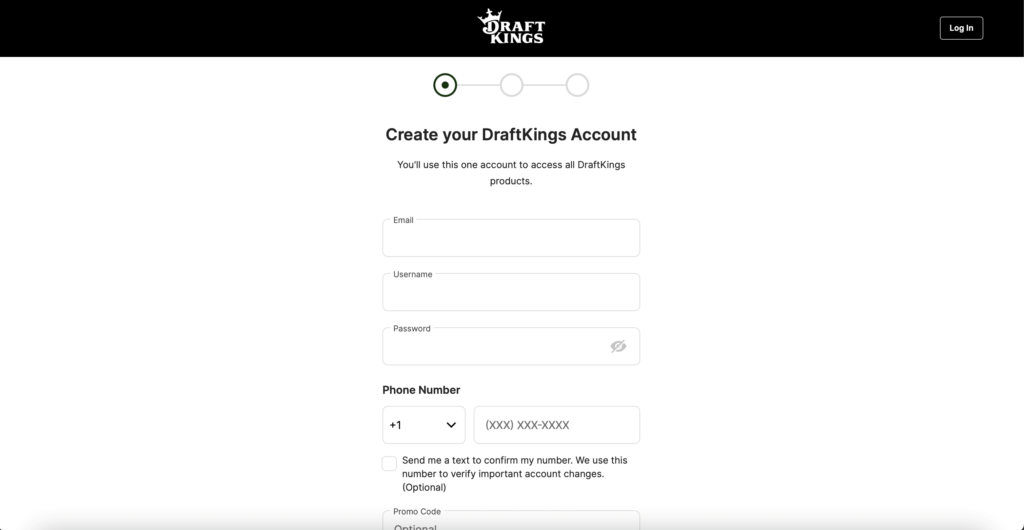 Before you can do anything, you must register for an account with DraftKings Sportsbook. It is important to note that you must be physically located within the limits of Ontario in order to place a bet. When the time comes, click an affiliate link or head to the DraftKings site directly to begin the process of registering for a new account.
Start by creating a username and password. From there, you will need to fill out basic information like your name, physical address, email address, phone number, and more. The process should be quick and easy, and it's unlikely you will run into any issues.
Verifying Your Account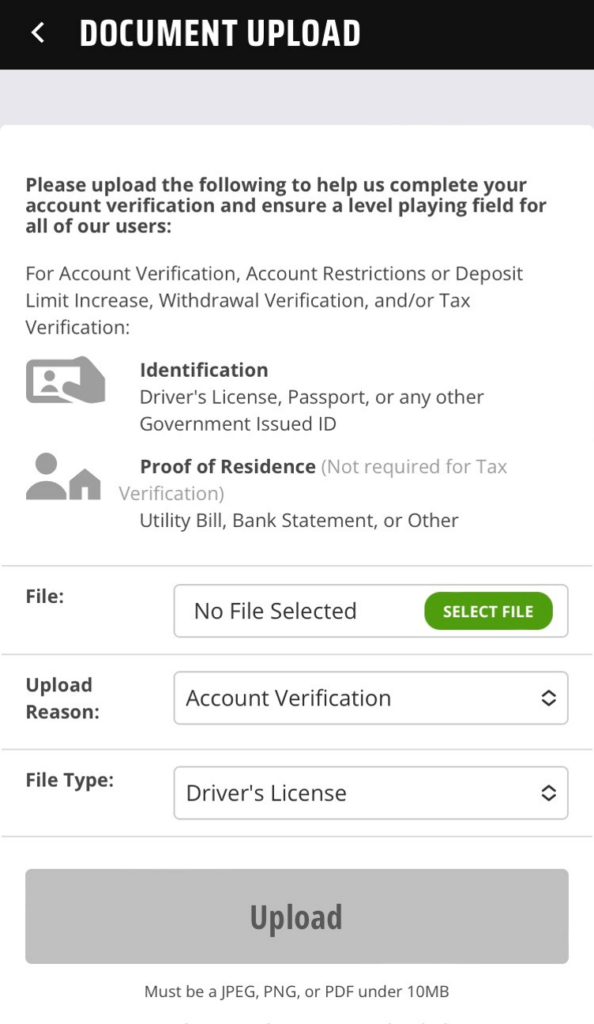 After filling out all of the necessary information, you will be asked to verify your account. The process is a simple one and should take just a short while longer to complete. The goal here is to ensure that the information being submitted is legitimate and not being used by anyone other than you.
The verification process includes showing a photo ID or proof of address. Usually one of these documents should be enough to complete the process, though there is a chance that you may be asked to provide additional information.
For the most part, a response should happen within a day but could take up to 48 hours in some circumstances. Though it is an additional part of the registration process, it at least provides peace of mind knowing that your information is safe and your identity properly verified.
Making a Deposit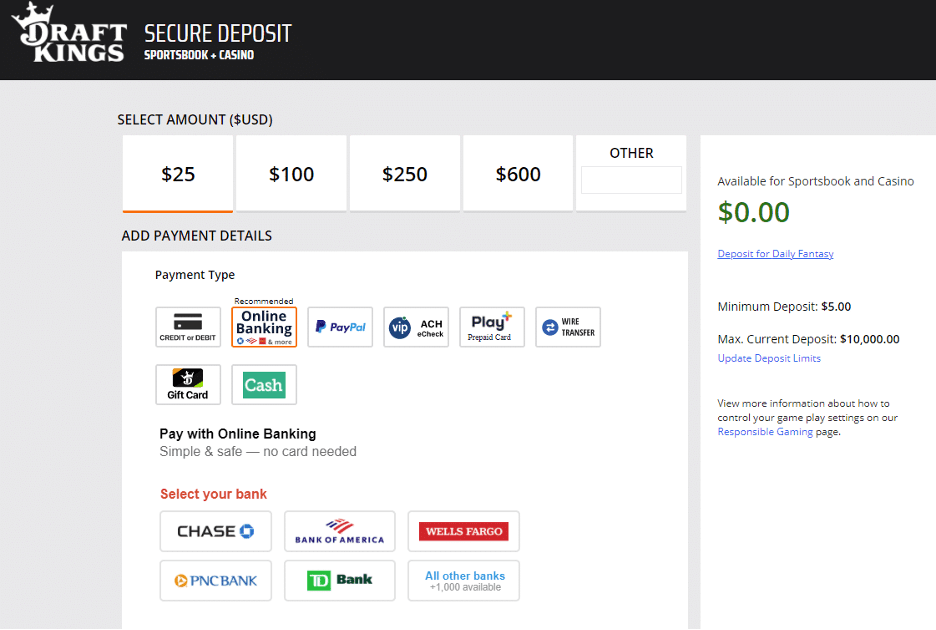 When your registration has been completed, the next step is to make a deposit. Before you can begin placing wagers on your favourite sporting events, you need to have some money in your account first. Thankfully, the process of making a deposit is as simple as it gets, and you should be on your way in a matter of moments.
Click on "deposit" in the upper corner of the website or mobile app. You will be taken to the banking screen and shown not only predetermined amounts but the variety of options available to you. These options include Visa, MasterCard, online bank transfer, eCheck, Interac, and a slew of other options to make the process easier.
When you have chosen your preferred method of deposit and the amount, all that is left to do is submit. In the case of online banking transfers, you will need to enter your online banking credits to continue. It should be just a few minutes at the most before funds hit your account, leaving you ready to start betting on all the great sports action in no time at all.
Placing a Bet
Finally, you need to know how to place a bet. There are several bet types available through DraftKings. You can choose from traditional single bets or use the bet builder feature to create a parlay all your own. No matter what you do, the process of placing a bet is as simple as it gets.
Begin by logging into your account. You will then be taken to the home or featured page, seeing the top games happening that day. When you find the event or events that strike you most, make your selections, and head over to the bet slip.
In the bet slip, you can review your wagers to make sure that they are correct. The last thing to do is to choose your stake amount or use any bonus bets you might have. Click "place bet" and all you need to do is hope for a winner!
FAQ
Is DraftKings Legal in Canada?

Is DraftKings Legal in Ontario?

Is DraftKings Legal in Alberta, British Columbia, and the other Provinces/Territories?

How do I make a deposit with DraftKings?

How do I place a bet with DraftKings?

Will DraftKings expand to other provinces?

What is the average deposit time?

Is DraftKings safe to use?
---
Top Reads
Cryptocurrency has risen in prominence over the last decade or so. A relatively new development is the implementation of cryptocurrencies as a form of payment for sports betting sites. In the guide below, you will learn all that there is to know…

Read More

As sports betting and casino gaming continue to gain popularity online, the way we pay for those wagers is changing. Bitcoin betting sites are becoming more prevalent. Crypto betting and crypto gambling are becoming more commonplace but are not a universal certainty…

Read More

Welcome to the Ultimate Guide to Sports Betting in Canada! Discover the legal landscape, top sports, betting tips, and more on your journey to becoming a savvy sports bettor. Canada's Betting Revolution: Unveiling New Rules & Strategies In the ever-evolving world of…

Read More
---
Latest News
GeoComply Solutions Inc., a leading tech company based in Vancouver B.C. which provides geolocation services to many legal sports betting sites in Ontario, has highlighted the growing desire for legal sports betting in Quebec. The company recently opened an office in Toronto.…

Ontario Senator Marty Deacon and Saskatchewan Senator Brent Cotter held a virtual panel on Wednesday about the future of sports betting in Canada, and specifically about the future of sports betting advertising. Deacon introduced Bill S-269 to Parliament last year. This bill…

Canadian sports betting and online casino company NorthStar Gaming has just released its financial report for the third quarter of the 2023 fiscal year (Q3 2023). Among other things, this report shows that NorthStar Gaming has increased its total gaming revenue by…
---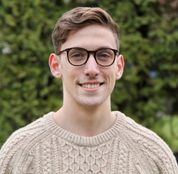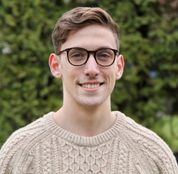 Julian Miller is a Canadian writer and an avid sports fan. He has years of experience in the iGaming industry, having started writing while completing his university studies in Montreal, Quebec. In 2022, he graduated, and has since been working full-time in the iGaming space. He has a particular fondness for the English Premier League — though he also has plenty of experience covering football, basketball, and other sports.